Build faster sites with ToolKit
Build lighter Elementor experiences with over twenty performance tweaks, powerful site admin tools, and amazing support.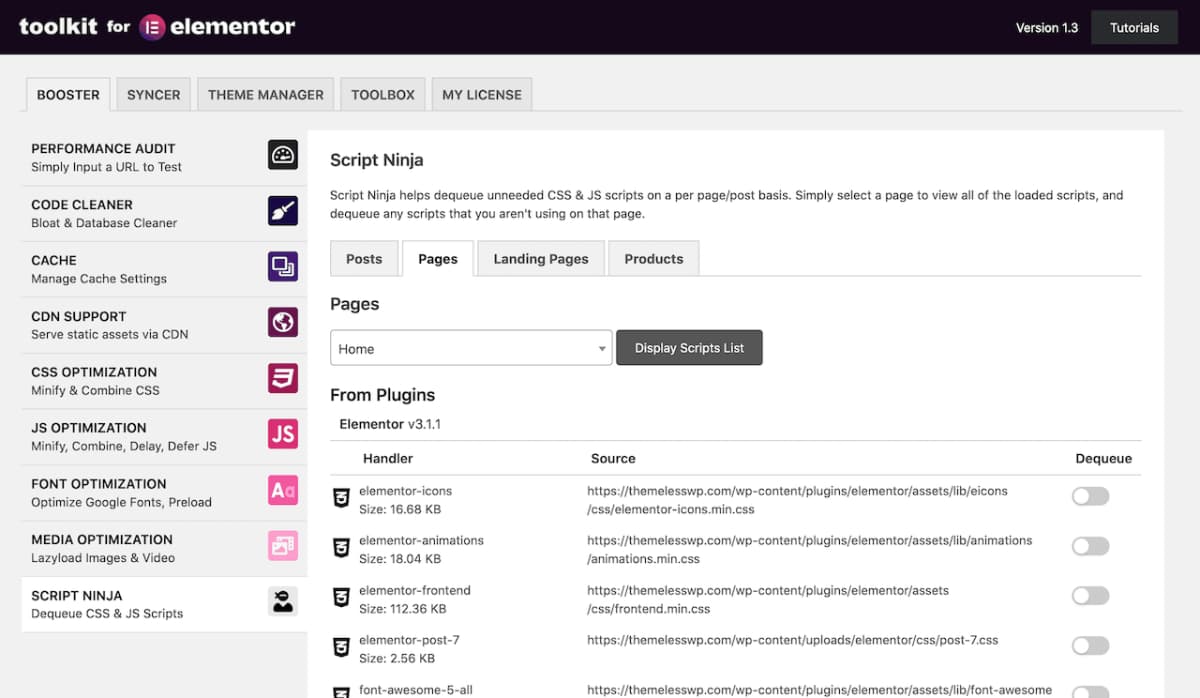 The only performance solution designed specifically for Elementor.
As Elementor users ourselves, we've built in a wide range of performance tweaks and admin tools designed specifically for Elementor. With each Elementor update, ToolKit adapts along with it in order to deliver the best experience and results possible.
Improve Core Web Vitals
Go Faster with Booster- our suite of performance tweaks designed to help optimize for Lighthouse and Core Web Vitals.
Cumulative Layout Shift (CLS)
CLS tests the "visual stability of a page" by measuring the "unexpected shifting of web elements" while the page is being rendered.

ToolKit can improve CLS with features such as:
✅ Automatically adding height and width attributes to images,
✅ Defining a fall-back font to avoid Flash of Invisible Text (FIOT)

Largest Contentful Paint (LCP)
LCP is a metric that measures the render time of the largest image or text block visible within the browser viewport.

ToolKit can improve LCP by:
✅ Preloading fonts
✅ Preloading above the fold images
✅ Prefetching external resources
✅ Dequeuing unneeded CSS & JS with Script Ninja
✅ Works with CDN's like Cloudflare to deliver content faster via Edge Caching.
First Input Delay (FID)
FID measures the time from when a user first interacts with a page, to when the browser actually begins processing that event.

ToolKit improves FID with features such as:
✅ Reducing file sizes via CSS & JS minification
✅ Defer JS
✅ Delay JS scripts until user interaction
✅ Lazy render HTML elements below the fold
✅ Works with CDN's like Cloudflare to offload expensive server processing tasks like caching and minification from your server to theirs.
Site admin tools that make life easier
ToolKit includes powerful admin tools that enhance productivity while reducing the need for other plugins.
What Our Members Say About Us
"ToolKit never lets me down. I'm amazed on how easy it is to remove all the extra bloat you don't need from Elementor! My sites are soooo much faster now. I also love how the team keeps adding new features, improving on the performance and keeping up with all the latest updates and trends…and not to mention, the support team is phenomenal.

It really is a MUST HAVE plugin if you're using Elementor!"

"Toolkit is at the top of my plugin stack. I use it on every site. It's like a Swiss Army Knife in that it does so many things. Not only will it significantly optimize your site, it has features that make it easier to work on.

This plugin comes with one of the best support teams I've come across, in many years. They are quick to respond and are happy to share their knowledge, in depth."


"Toolkit is an amazing tool to optimize and will have your Elementor site running lean, mean, and clean. We have found that by using Toolkit – it has reduced our plugin stack as well, which is always a good thing."

Timothy P.
Tickyboom Design
"Toolkit is my go to plugin for every WP site I create. Jam packed with useable features for optimizing your site. And the list of features is growing every month. The developers are open to input, which is nice indeed. One plugin to replace a couple or more."

"ToolKit keeps getting better with each update! The community is really helpful and the support team are rockstars. They've patiently answered all my performance questions and helped me optimize several of my Elementor sites to double A's in GTMetrix."

"Toolkit is by far the best plugin for controlling every single part of your Elementor powered WordPress website.

From cleaning WordPress bloat to customizing your dashboard, it's the most feature-packed, lighter, reliable, and efficient plugin you can ever have."

"Outstanding customer support, outstanding access to website optimisation advice in their knowledge base and an outstanding tool to speed up your site and improve your workflow. I can't recommend ToolKit enough."

"At flowragency, we are use ToolKit on all our websites. We love this plugin as it solves a lot of Elementor performance issues, as well as other things."

"Our agency uses Toolkit on all of Elementor sites and love it! Not only does it help us reduce bloat on our sites, the support is fantastic and always goes above and beyond."

"With millions of websites on Elementor and clients using sub-par hosting, Toolkit is an essential part of our deployments. It helps us dequeue unnecessary scripts and with other amazing features, its a no brainer!"

Join the ToolKit Community Today
Select a plan and get access members-only resources,
premium support, regular updates, and more.
Freelancer
Use on up to 3 sites
All Access Pass
Premium Support
Regular Updates
Professional
Use on up to 25 sites
All Access Pass
Premium Support
Regular Updates
Eligible for Referral Program
Studio
Use on 100 Sites
All Access Pass
Priority Support
Regular Updates
Eligible for Referral Program
Enterprise
Use on 1000 Sites
All Access Pass
Priority Support
Regular Updates
Eligible for Referral Program
Pro Performance Audits (New!)