Your Account Portal is where you can access your available downloads, manage your license key, and manage your subscription.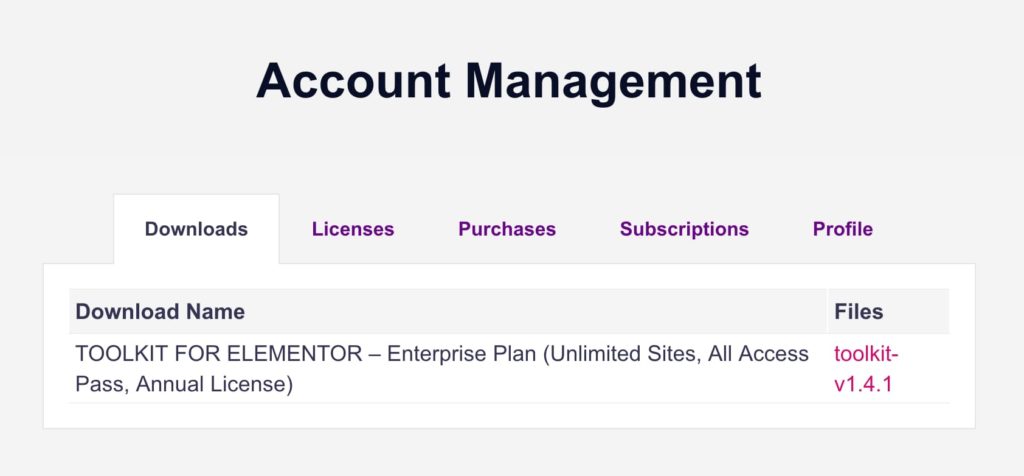 Available Downloads
Under this tab, you'll be able to download the latest versions of ToolKit (Stable) and ToolKit (Beta).
Please keep in mind that we do not recommend installing Beta versions of any software on live, production environments. Beta versions are made available to our users for testing purposes only.
Licenses Tab
Under this tab, you'll find any available License Keys associated with your account. From here, you can extend or upgrade your ToolKit license. You can also manage your sites linked to your license key.
Removing a site from your license will deactivate ToolKit on that site automatically. Before doing this, we recommend making sure you've selected "Remove All Data" under your Data Handling preferences in the plugin settings.
Purchase History
In this tab, you'll find your purchase history, receipts, license keys, and ability to generate an invoice.
Subscriptions
Want to cancel your subscription? We'd hate to see you go, but if you have your mind set on it, you'll be able to easily cancel your subscription right from your Subscriptions tab in your account portal.
My Profile
Need to change your password or email? No problem, simply visit your My Profile tab to update your account credentials.